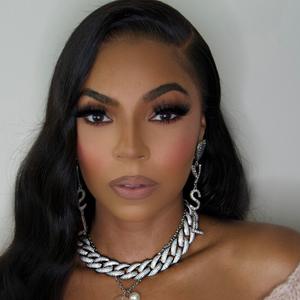 Ashanti is a Grammy Award-winning singer/songwriter, actor and author. Ashanti burst onto the music scene with her smash hit, self-titled debut album Ashanti. It landed the #1 spot on both the Billboard Top 200 and R&B album charts, selling a whopping 504,593 units in its first week and set a SoundScan record as the most albums sold by any debut female artist in the chart's history, granting her a spot in the Guinness Book of World Records, which she still holds today. Ashanti has released six studio albums and received eight Billboard Awards, a Grammy, two American Music Awards, two Soul Train Awards, six ASCAP Awards, and many more awards and illustrious honors. Ashanti has continued to reign at the top as one of Billboard's "Top Females of the Decade from 2000-2010" and continues to break Billboard records as having a Hot 100 entry in the 2000's, 2010's and 2020's.
In 2005, Ashanti made her telefilm debut starring as Dorothy in The Muppets' Wizard of Oz, opposite Miss Piggy and Kermit. She also starred in the Disney animated series The Proud Family and continued to receive roles in Buffy the Vampire Slayer, Army Wives, Sabrina, the Teenage Witch, and portrayed Dionne Warwick on NBC's American Dreams. She has also played herself and performed on the hit TV series Vegas.
In her feature film debut in Coach Carter, she co-starred with Samuel L. Jackson, and it was a #1 box office hit. Ashanti's other film credits include Resident Evil Extinction, John Tucker Must Die and Bollywood film Bride & Prejudice. Ashanti executive produced, starred in the musical drama and feature film STUCK, released April 2019. She also executive produced the feature film Mothers and Daughters, starring Sharon Stone, Susan Sarandon, Mira Sorvino and more.
Ashanti recently starred in Honey Girls, in partnership with Build-A-Bear Entertainment and Sony Pictures and will soon begin filming The Plus One in March 2022, that she will star in and executive produce.
Ashanti has built her brand with several major partnerships and has her own fragrance, "Precious Jewel" with AMC Beauty. Her endorsements include Herbal Essences, where she is the first African American to land a national campaign, and Candies Apparel. She launched her clothing line in collaboration with Miss Circle and partnered with Pretty Little Thing to create her own swimsuit line "Ashanti."
She has written her first book of poetry through Hyperion titled Foolish/Unfoolish: Reflections on Love and will release a book with Harper Collins in 2022.
Ashanti is the Ambassador for the Jumpstart Reading Program and became the "Youth of the Year" Ambassador for the Boys and Girls Club of America in 2009 and was also inducted into their Hall of Fame. She became a member of their "BE GREAT" Campaign with Denzel Washington, was also a part of the "Let's Move" campaign with Michelle Obama.
To celebrate her contributions to music and recording, Ashanti will receive a star on the Hollywood Walk of Fame in April 2022.