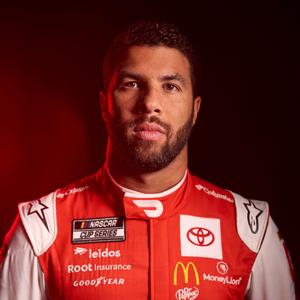 Darrell "Bubba" Wallace drives the No. 23 Toyota Camry for the new Michael Jordan and Denny Hamlin owned 23XI Racing team in the NASCAR Cup Series, the top racing circuit in America.
As the sport's lone Black driver, Bubba has played a critical part in NASCAR's push for inclusion and equality, including its ban of the Confederate flag at races.
A graduate of NASCAR Drive for Diversity program, Wallace first drew headlines in 2013 when he became the first African-American in 50 years to win in one of NASCAR's top three national touring series when he won his first of six career NASCAR Truck Series races.
Then in 2018, Bubba became the first African-American to become a full-time driver in NASCAR's premier Cup Series. In 2021, Bubba then became the first Black driver to win a race in NASCAR's premier series since Hall of Famer Wendell Scott took the checkered flag at Speedway Park in Jacksonville, Fla., on Dec. 1, 1963.
Events featuring Bubba Wallace