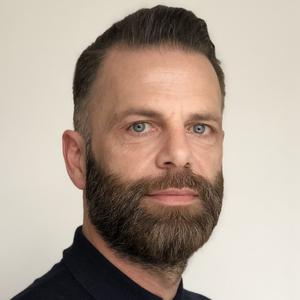 Norman is a Digital Veteran with a 25+ years track record experience developing connected products and services.
Before joining Porsche Digital in 2019, Norman has worked for some of the biggest global brands, consumer electronic giants and research labs, managed several corporate start-ups and a UX design agency. At the age of 6 he started a classical piano and music theory training and participated in the internationally acclaimed Robert Schuman Competition for young pianists, followed by the opportunity to study music in a masterclass at Music University Dresden at the age of 12. Growing up with the sound of the "Berlin School", his interest in sound design, music technology and particularly electronic music was clearly sparked in his youth. However, he later decided to study computer science but music always remained a substantial part throughout his career.
In the early 2000s Norman began to work on own audio / video art concepts art (www.normanfairbanks.com) and joined projects in the interactive music space for various renowned research labs. Furthermore he became expert in musical metadata technology. Amongst many other initiatives with focus on sound and mixed media, Norman has designed a generative music system i.e. for German electronic pioneers Kraftwerk (https://kraftwerk.com/KKM/kkm.html) and accompanied the product launch for a visionary LED synthesizer.
Norman is Senior Product Owner Sound Experiences at Porsche Digital and leads the "Soundtrack My Life" project, aiming to introduce adaptive sound in the era of e-mobility for Porsche.
Events featuring Norman Friedenberger
Events featuring Norman Friedenberger