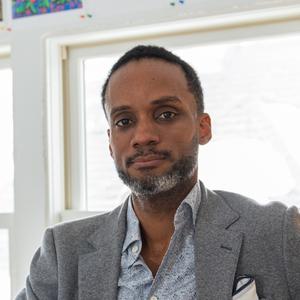 Sekou Cooke is an architect, urban designer, researcher, and curator. Born in Jamaica and based in Charlotte, North Carolina, he is the Director of the Master of Urban Design program at UNC Charlotte, the 2021/2022 Nasir Jones HipHop Fellow at the Hutchins Center for African & African American Research at Harvard University, and a founding member of the Black Reconstruction Collective. Cooke is a leading advocate for the study and practice of Hip-Hop Architecture, which addresses the broad impacts of the racist history of architecture and urban planning, opening a pathway for practice, education, and scholarship that embraces architecture as a tool for shaping, reflecting, and understanding culture.
As an architectural and urban design practice, sekou cooke STUDIO is grounded in research, emphasizing both broader cultural context, intended use, and improvisational potential of projects. The work of the studio is centered on the exploration of Hip-Hop Architecture: an approach to contemporary design that embraces hip-hop culture and applies its shape, structure, and ideologies to the built environment.
The studio has completed design commissions for masterplans, multi-unit residential developments, residential and commercial buildings, interior renovations, speculative developments, and tenant improvements across the United States and internationally. Key recent projects include the forthcoming Syracuse Hip-Hop Headquarters, designs for Los Angeles Department of Building and Safety's Standard Plan ADU Program, and Grids + Griots, an architectural intervention commissioned for the 2021 Chicago Architecture Biennial.
Cooke's research practice centers on the emergent field of Hip-Hop Architecture, a theoretical movement reflecting the core tenets of hip-hop culture with the power to create meaningful impact on the built environment and give voice to the marginalized and underrepresented within design practice. This work has been explored through his writings, exhibitions, lectures, and symposia. It is the subject of his monograph Hip-Hop Architecture, published in April 2021, and the 2018 exhibition Cooke curated, Close to the Edge: The Birth of Hip-Hop Architecture, which was first mounted in 2018 at the AIA Center for Architecture in New York. This exhibition is currently traveling to venues across the US. His work was also featured in the landmark exhibition, Reconstructions: Architecture and Blackness in America, at the Museum of Modern Art in the Spring of 2021.
The studio has received widespread recognition for its design work including ​​a 2022 Emerging Voices award from The Architectural League of New York. Other design awards include an honorable mention in the Faculty Design category of the 2020 ACSA awards for Close to the Edge, receiving a commendation for the Government of Jamaica (GOJ) Houses of Parliament international design competition, placing as a finalist for the Reimagine Place AIA Central New York design competition, and having an exhibited entry for the Elevating Erie national design competition.
Sekou holds a B.Arch from Cornell University, an M.Arch from Harvard University, and is licensed to practice architecture in New York and North Carolina.
Events featuring Sekou Cooke
Events featuring Sekou Cooke