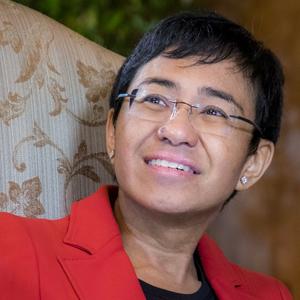 A journalist in Asia for more than 35 years, Maria Ressa co-founded Rappler, the top digital only news site leading the fight for press freedom in the Philippines. As Rappler's CEO and president, Maria has endured constant political harassment and arrests by the Duterte government, forced to post bail ten times to stay free. Rappler's battle for truth and democracy is the subject of the 2020 Sundance Film Festival documentary, A Thousand Cuts.
She has received many recognitions for her courage, principled stance, and work on disinformation and 'fake news'. In October 2021, Maria was one of two journalists awarded the Nobel Peace Prize in recognition of her "efforts to safeguard freedom of expression, which is a precondition for democracy and lasting peace."
Before co-founding Rappler, Maria focused on investigating terrorism in Southeast Asia. She opened and ran CNN's Manila Bureau for nearly a decade before opening the network's Jakarta Bureau. Maria wrote Seeds of Terror: An Eyewitness Account of al-Qaeda's Newest Center of Operations in Southeast Asia and From Bin Laden to Facebook: 10 Days of Abduction, 10 Years of Terrorism. Her third book, How to Stand up to a Dictator, will be published in 2022.
Events featuring Maria Ressa
Mar 15, 2022
10:00am — 11:00am