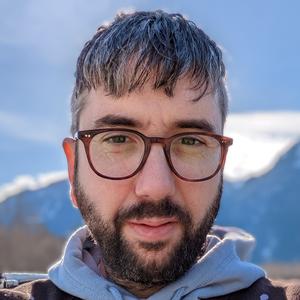 Adam Rogers is an experienced, versatile creative leader with 20 years' experience producing and successfully launching award-winning innovative storytelling and music projects, through a variety of mediums. A career beginning as a DVD producer for Technicolors London studio. He went on to produce groundbreaking music DVD/Blu-Ray for bands such as Depeche Mode, and The Who. 2012 , joining MPC as a Dept Manager he went on to build the world's largest Matte Painting/3D environments team.
In 2015 he worked alongside creator/visionary Tyler Hurd, and they launched the award winning GMH VR studio where Adam was the Executive Producer.
A Creative Producer for the pioneering volumetric capture studio, Intel Studios, he brought to market innovative Immersive experiences. This included Runnin' with Reggie Watts, which took home SXSW's Best Interactive Award.
Adam is now the Co-Founder , VP of Creative/Head of Studio for Vancouver's groundbreaking Metaverse focused company - The Departure Lounge.
Events featuring Adam Rogers
Mar 14, 2022
1:00pm — 2:15pm
Events featuring Adam Rogers
Mar 14, 2022
1:00pm — 2:15pm