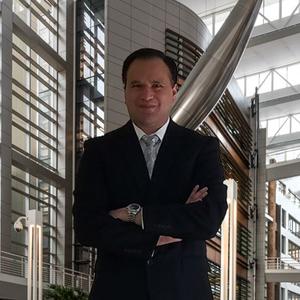 Martin Mendoza, Ph.D., serves as the Director of Health Equity for the All of Us Research Program. In this role, he provides leadership and high-level expertise to improve inclusion and equity in precision medicine and address health equity issues for the program.
Before joining All of Us, Martin served as Director of the Division of Policy and Data at the Office of Minority Health in the Office of the Secretary at the U.S. Department of Health and Human Services, charged with developing health policies and initiatives to eliminate health disparities and advance health equity. Previously, he led extramural research for minority health in the Office of the Commissioner at the U.S. Food and Drug Administration (FDA). He is a recognized expert in clinical trial diversity and while at FDA testified before Congress in support of diverse clinical research inclusion. Martin is also the primary author of the pivotal FDA guidance document Collection of Race and Ethnicity Data in Clinical Trials.
Prior to FDA, Martin served in the Division of Clinical Research at the National Institute of Neurological Disorders and Stroke. He conducted his primary research training in the National Cancer Institute's Pediatric Oncology Branch and served at the National Human Genome Research Institute, where he helped to map chromosome 7 as part of the Human Genome Project.
Martin is a graduate of the University of Maryland, Baltimore County and received his Ph.D. in cancer biology from the Johns Hopkins University.
Events featuring Martin Mendoza
Presented by
Bristol Myers Squibb
Events featuring Martin Mendoza
Presented by
Bristol Myers Squibb