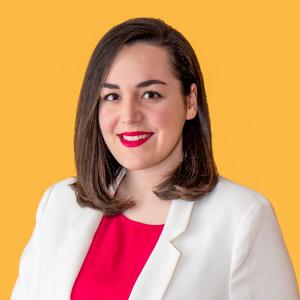 Claudia Yoli Ferla is the Executive Director at MOVE Texas, a nonprofit organization
working to build the social, cultural, and political power of young people in Texas. She is a
dedicated community organizer born in Venezuela and proudly raised in El Paso, Texas.
Drawing on her power and unique experience as a Dreamer and queer Latina, she
advocates on behalf of young Texans everywhere looking to find their voices to affect
change in their communities.
Claudia has served in multiple roles across the political and advocacy sectors, working with
organizational leaders like Battleground Texas, Texas Freedom Network, and United We
Dream. Prior to her role at MOVE Texas, Claudia served as the co-Executive Director of
Deeds Not Words, training hundreds of young leaders across the state and building chapters
across 25 Texas high schools and higher learning institutions. She also formerly worked as
the Director of Community Affairs and Media Relations for the Office of Texas State Senator
José Rodríguez, a staunch advocate for social justice and civil rights, and an inspirational
leader whom she considers to be one of her strongest mentors.
Claudia is proud to be part of the generation of young people who won the protections of
the DACA program and who unapologetically continue to tell the world that immigrant
stories do not belong in the shadows. Over the years, she has worked with other young
leaders to help register voters, elect candidates, and support policies that improve our
communities. It is because of these experiences that she is committed to developing the
leadership of young people, by uplifting their voices, stories and power. As someone who is
deeply impacted by the mission of MOVE Texas, Claudia brings her personal experiences
and contributes to the impactful team that is powering change across Texas and beyond.
Events featuring Claudia Yoli Ferla
Events featuring Claudia Yoli Ferla