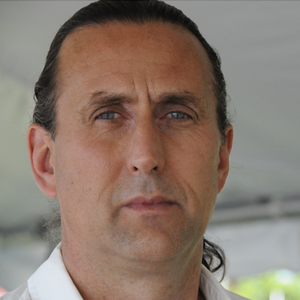 Stewart Bain is CEO & Co-Founder of NorthStar Earth & Space. An environmentalist, innovator, engineer and business development executive, he's been at the forefront of disruptive aerospace technologies for over 25 years. He holds an MBA and Master's in Engineering, is a classically trained Shakespearean actor and competitive natural bodybuilder.

Empowering sustainability for his own six children and generations to come, Stewart works to ensure clean, secure and equitable access to space, while managing the earth's most precious resources with combined earth and spaced-based data. Stewart is building a system of systems: the backbone infrastructure of the next technological – and environmental – revolution.
Part of the engineering team for RadarSat 1 and 2, Stewart created the Optical Systems Centre of Excellence at CAL Corporation (now Honeywell). Developing breakthrough spacecraft attitude control systems and optical intersatellite technologies, he has made significant contributions to Canada's first space situational awareness satellite, SAPPHIRE, and the James Webb space telescope. Working on numerous international missions, Stewart speaks English, French, Spanish and Japanese. Awarded an R&D 100 with NASA Langley, he personally believes that "impossible" things are the only things worth achieving, and you must always leave the campsite the way you found it.
Events featuring Stewart Bain
Events featuring Stewart Bain