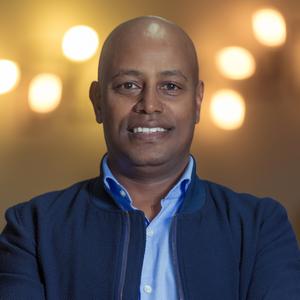 Zelalem Woldemariam is an award-winning filmmaker and founder, CEO, and Chief Creative Director of Zeleman, a full-service communications, advertising and production agency delivering impactful marketing campaigns that drive sustainable growth. Originally founded in 2005 to provide pioneering production services in Ethiopia's emerging advertising industry, Zelalem has led the growth of the company to offer specialized services that meet the diverse demands of a global clientele. Being Creative Entrepreneur, Filmmaker & Storyteller himself, Zelalem has created a vision for the success of Zeleman; and has motivated, guided and empowered a team of passionate and creative youth towards that success.

Today, Zeleman is a world-class agency that employs over 140 local and international professionals who push the boundaries of creative value creation to deliver elevated and impactful marketing campaigns, while expanding Ethiopia's creative industries through mentorship and job creation.

Zelalem has pursued his passion for filmmaking yet to another horizon - promoting and celebrating films shot exclusively with smartphones and other mobile devices. He is a Managing Partner of SmartPhilm, which provides a platform to the global artistic and storytelling community to democratize the filmmaking industry by producing their own stories in the most accessible way using their smartphone.
He currently serves as Vice President of the Ethiopian Advertising Council, enabling him to influence and shape the young advertising and media industry in Ethiopia. Learn more about his work at zeleman.com.
Events featuring Zelalem Woldemariam
Mar 13, 2022
10:00am — 11:00am
Events featuring Zelalem Woldemariam
Mar 13, 2022
10:00am — 11:00am