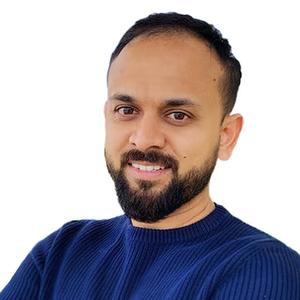 I live in Atlanta and currently heading the design practice at Moonraft Innovation Labs.
I'm fortunate to lead a global team of 70+ super-awesome designers spread across US, India and SA. Throughout my career of 12 years in design industry, I've expanded my boundaries from graphic to user experience to design strategy and now design leadership. I've worked in diverse verticals including Finance, Retail, and Healthcare.
My current role revolves around aligning strategic design-centric journeys and solutions to business metrics, devising novel service offerings, creating avant-garde point-of-views for future scenarios, collaborating with techno-creative teams across geographies, improvising creative processes for design teams, hiring, and mentoring.
Currently I'm continuing my studies at Parsons School of Design on Design Leadership for Business. I'm a Certified Chartered Designer and Jury at Design Schools. Apart from being passionate about design, I immerse myself in cooking 👨‍🍳🥘 (perfecting my skills on baking an artisan bread 🥖 ), reading 📖 and possess a collection of quirky apparel.