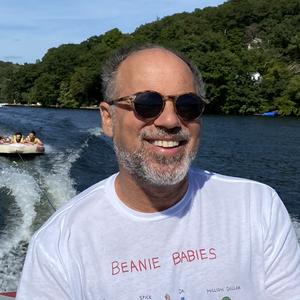 Steve Greenberg is an American record producer currently heading the S-Curve Records label. He also manages the pop band AJR and is the host/writer of the podcast "Speed of Sound".
He is noted for "discovering" popular musical acts such as Hanson, Baha Men, Jonas Brothers, Joss Stone and AJR. He received a 2000 Grammy Award in the "Best Dance Recording" category as a producer of "Who Let the Dogs Out?" by Baha Men. Greenberg also won a 2019 Grammy Award in the "Best Album Notes" category for his essay featured in the "Stax '68: A Memphis Story" boxed set. From 2005 to 2006, he served as the president of Columbia Records, where he produced the debut album by the Jonas Brothers. Prior to founding S-Curve Records, he was Head of Artists & Repertoire for Mercury Records, where he served as executive producer of Hanson's single "Mmmbop", which spent three weeks at number one on the Billboard Hot 100 chart, and their debut album Middle of Nowhere.
S-Curve's roster/catalog includes Duran Duran, Andy Grammer, 'Hamilton' star Leslie Odom Jr., 2018 Eurovision winner Netta Barzilai, reggae artist Conkarah, Tinted Windows, Fountains of Wayne, Nikki Jean, We The Kings, Joss Stone, A-WA, Betty Wright, Little Jackie, Tom Jones, Daisy the Great, Care Bears On Fire, David Broza, Rachel Crow, Broadway star Joshua Henry, A Great Big World, Maxi Priest and Diane Birch.
Events featuring Steve Greenberg