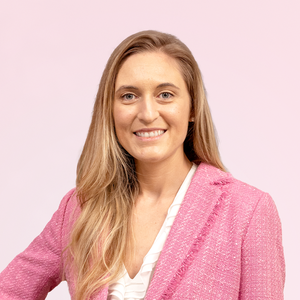 Emily Ewell is the CEO and co-founder of Pantys, the leading absorbent apparel brand innovating in health and sustainability. With Pantys.com, she drove the development of many market "firsts" including the first absorbent leak-proof nursing bra worldwide, trans boxers for men who menstruate, leak-proof swimwear, absorbent activewear, and an incontinence line with the highest absorption (100mL) of any reusable absorbent underwear in the global market. Pantys is also a certified B Corporation and the first lingerie brand to launch carbon labels, making their entire product portfolio 100% carbon neutral.
Emily is passionate about disruptive innovations that improve health, sustainability and design with the goal to transform daily life through consumer-centric technologies and solutions. She has 15 years of experience working across public and private healthcare sectors in innovation strategy and digital marketing in the US, Europe and LatAm and is currently an Endeavor Entrepreneur and participant in the UN Global Compact. 
Emily holds a BS in Chemical Engineering from the University of Virginia and a dual MBA and Masters in Public Health (MPH) from UC Berkeley. She currently resides in São Paulo with her husband and daughter.
Events featuring Emily Ewell
Events featuring Emily Ewell