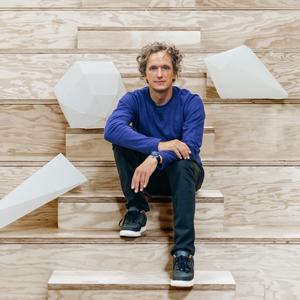 Yves Béhar is a global leader in design and the Founder and Chief Designer of San Francisco-based industrial design and brand development studio, fuseproject. A successful entrepreneur, Béhar has co-founded new companies such as August Home, FORME Life, and CANOPY and has partnered with titans of industry like Puma, Herman Miller, Swarovski, SodaStream, Nivea, and more. fuseproject is a multidisciplinary, first-in-category firm, built on Béhar's belief that integrated product, digital and brand design are at the cornerstone of any business and that design can be a force for positive social and environmental change. The studio's work spans from designing full environments, to robotics, smart-home technology, and wellness equipment, as well as humanitarian and non-profit projects.
Béhar has continued to push smart-home design in new and groundbreaking directions in order to integrate technology seamlessly, while adding more functionality to the home and its occupants. He has designed many innovative products in the home space, such as Ori Living which increases flexibility for small spaces using electronics and software to glide heavy furniture; Plant Prefab's YB1, a customizable Accessory Dwelling Unit (ADU) that covers a range of consumer needs and price ranges, in addition to quality design and workmanship; the Samsung Frame TV that blends into a home like an art-piece; and August Smart Locks, the most advanced smart lock on the market.
Béhar is widely recognized for products and experiences that establish new categories such as the smart baby sleeper SNOO; the widely successful Herman Miller Sayl task chair; Moxie the emotionally and socially intelligent robot companion by Embodied; and FORME Life, an in-home exercise experience that marries design and technology to strengthen the body and
mind. Beyond wellness design, Béhar has focused fuseproject's efforts into the health and medical industry and created a medical ventilator as part of the CoVent-19 Challenge to meet the need for viable and affordable new designs for ventilators to support relief efforts during the COVID-19 pandemic. Béhar is the only designer to be honored with the INDEX Award for designs that improve life worldwide, for his role in One Laptop Per Child, which has given 2.5 million laptops to children in developing countries, See Better to Learn Better, which distributes 500,000 free corrective eyeglasses to schoolchildren in Mexico and California every year.
Béhar's works are included in the permanent collections of museums worldwide, including the Museum of Modern Art in New York, the San Francisco Museum of Modern Art, the Centre Pompidou and the Art Institute of Chicago. Béhar is a frequent speaker on design, sustainability, technology and entrepreneurship; he has given talks at TED, the World Economic
Forum in Davos, and the Clinton Global Initiative. Béhar was selected as the artist trustee of the Board of Directors of the San Francisco Museum of Modern Art. He has garnered over 300 awards, including the Design Miami/ 2015 Design Visionary Award, the London Design Museum's Design of the Year, Cooper Hewitt's National Design Award, IDSA Design of the Decade Award, IDA Designer of the year and Conde Nast Traveller Designer of the Year. Yves Behar was named a Top 25 Visionary by TIME Magazine, and was recently named "Most Influential Industrial Designer in the World" by Forbes.