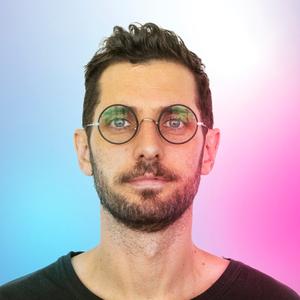 ​​An award-winning augmented reality designer, avant-garde movie producer, and multimedia artist, Sutu (aka Stu Campbell) is an architect of the digital, connected future. Whether it be augmented comics, virtual concerts, or extended reality (XR) filmmaking, he unlocks the meta world and bends it to do his artistic bidding.
Sutu is driven by a desire to bring digital culture, art, and technology to the four corners of the globe and make them accessible to underrepresented populations. Ever in pursuit of universal access to new tech, he often locates his projects and presentations among isolated populations and involves the residents in creating interactive content. These engagements allow him to provide community, social, and mentoring services while exposing new audiences to his vision.
Much of his work sheds light on poignant social issues, such as These Memories Won't Last, a sensitive webcomic portrayal of his grandfather's struggle with dementia and Mind at War, a virtual reality portrayal of the ravages of post-traumatic stress disorder (PTSD). As the art director for Breonna's Garden, an augmented reality experience designed to foster healing and reconciliation in the memory of Breonna Taylor, Sutu was able to reach a new audience and introduce them to the part XR can play in the grieving and healing process. Sutu's multimedia project Neomad was created in collaboration with 40 young people in remote western Australia, rallying a community around a single goal.
While much of the Australian's work and life have focused on fomenting tangible social improvement and delivering messages of hope through the innovative digital experiences he creates, Sutu has also seen great success in the corporate world. He has lent his creative and technical genius to projects spearheaded by Stephen Speilberg, John Legend, Google, Marvel, and Disney.
Expanding on his existing work in the XR space and desire to bring together community, his latest project, Sutuverse, is his perception of how the metaverse can unlock technology to unleash productivity, creativity, community spirit, and social understanding while nurturing artists and supporting a space where they can express themselves.
Events featuring Sutu
Mar 14, 2022
11:30am — 12:30pm
Mar 16, 2022
10:00am — 11:00am
Events featuring Sutu
Mar 14, 2022
11:30am — 12:30pm
Mar 16, 2022
10:00am — 11:00am