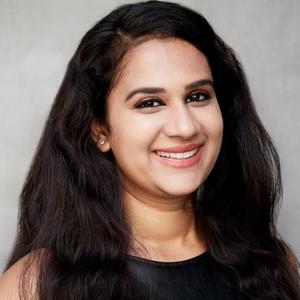 Apoorva Charan is an LA based writer & producer who was born in Hyderabad, India and raised in Northern California. Charan started her career at FremantleMedia Singapore where she worked on major series including Asia's Got Talent, X Factor Indonesia and Thailand's Got Talent as a digital producer. Passionate about narrative storytelling, Charan pursued her MFA in Film at Columbia University.
Charan has produced over twenty short films including LONELY BLUE NIGHT which won the Audience Award for Best Short Film at AFI Fest 2020, was an official selection at the Atlanta FF, was a finalist for the HBO APA Visionaries award, and is available to stream on HBO Max, 空间 DISTANCE which premiered at the 29th Singapore International Film Festival 2018 and won Film Pipeline's Best Film Award in 2020, and INTERIORS which premiered at the TIFF in September 2018 and was an official selection for Clermont-Ferrand 2019.
Charan was a 2019 Project Involve creative producing fellow, a 2020 Film Independent Creative Producing Lab fellow, a 2021 Women in Film Emerging Producers fellow, and has worked in development at Big Beach, Walt Disney Studios' live action department and at Blue Harp.
Her producing projects have been selected for the Open Doors Hub at Locarno in 2018 and Film Independent's Fast Track in 2020. Focused on diverse and innovative storytelling, Charan aims to produce refreshing and unique narratives for a global audience.
Events featuring Apoorva Charan
Mar 14, 2022
2:30pm — 3:30pm
Events featuring Apoorva Charan
Mar 14, 2022
2:30pm — 3:30pm