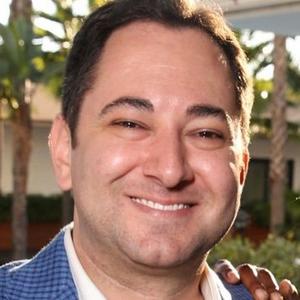 Scott Feinberg is one of Hollywood's most experienced, trusted and widely-read awards columnists, employing his writing and interviewing abilities, knowledge of showbiz history and deep Rolodex to take readers behind-the-scenes and inside the annual Oscar, Emmy and Tony races.
Born in New Haven, Conn., and raised in nearby Woodbridge, Conn., he graduated from Brandeis University in Waltham, Mass., and began his career at the Los Angeles Times in 2008. He moved to The Hollywood Reporter in 2011 and has worked there ever since.
Feinberg is responsible for much of THR's awards coverage in print/online, providing reporting, analysis and prognostication. He also created in 2015 and hosts THR's popular 'Awards Chatter' podcast, which features weekly in-depth interviews with industry titans such as Oprah Winfrey, Steven Spielberg, Julia Roberts, Lorne Michaels, Meryl Streep, Jerry Seinfeld, Lady Gaga, Lin-Manuel Miranda, Jennifer Lawrence, Tom Hanks, Angelina Jolie, Spike Lee, Carol Burnett, Norman Lear, Barbra Streisand and Elton John, and others like Hillary Clinton, Al Gore, Gloria Steinem, Bill Gates, Jane Goodall, Buzz Aldrin, Ruth Westheimer and Kobe Bryant.
He also occasionally writes on matters unrelated to awards - for example, an investigation into the elder abuse of Mickey Rooney; a feature about the survivors of Hollywood's blacklist; and profiles of Jerry Lewis, Julie Andrews and Derek Jeter.
Additionally, he moderates post-screening Q&As with A-listers (e.g. Daniel Day-Lewis, George Clooney, U2); attends film festivals as a speaker (Karlovy Vary, Mendocino), panelist (Maryland, Savannah, SFFilm), moderator (Toronto, AFI, Tribeca, Savannah, Santa Barbara, Palm Springs, Ischia, Capri, Miami, Produced By) and juror (Boulder, Helsinki, Hamptons, Napa Valley); and, as a member of the Critics' Choice Association, votes for the Critics' Choice Awards.
Feinberg has been described as having "one of the best Oscar prognostication track records" (AP) and has been called "one of the season's most informed Oscarologists" (New York Times), "an awards oracle" (Variety), "an awards authority" (Vanity Fair) and "a one-man encyclopedia of top-shelf cinema" (New Haven Register).
He has received honors from the Los Angeles Press Club's National Arts and Entertainment Journalism Awards (best blog by an individual, 2013; best documentary or special program, 2013; best entertainment blog, 2014; best personality profile/interview, 2016; best one-on-one interview - radio/podcast, 2016; best TV/movie industry feature - newspapers/magazines, 2018); and SoCal Journalism Awards (best feature under 1,000 words, 2015; best investigative reporting, 2016; best blog by an individual, 2017; best sports news/feature/commentary, 2017; best personality profile/interview, 2020). And 'Awards Chatter' was nominated for the best podcast Shorty Award in 2019.
Events featuring Scott Feinberg
Events featuring Scott Feinberg