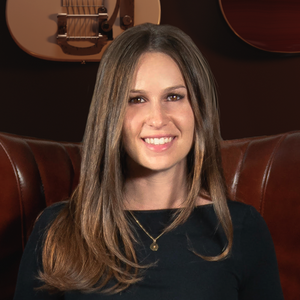 Shara Senderoff is Founder/Partner of music/technology venture fund, Raised In Space. Senderoff's reputation for visionary strategy and foresight both technically and creatively has commanded both attention and praise throughout the entertainment industry attested by her inclusion on numerous professional lists like Forbes' "30 under 30," Rolling Stone's "Future 25," Billboard's "40 Under 40" and prestigious "Women in Music" and Fast Company's "100 Most Creative People in Business."
Senderoff co-founded Raised In Space with music industry giant Scooter Braun and RippleX – in a mission to raise the value of music through investing in and strategically advising the next generation of transformational tech companies.
Senderoff is a leading entrepreneur and voice in the tech and entertainment communities facilitating strategic collaborations and growth in web3, blockchain, the metaverse, NFTs/digital collectibles, crypto, gaming, virtual entertainment, royalties/copyrights, creator monetization, data science and adtech—all of which are vital to the growth and sustainability of the entertainment ecosystem.
Additionally, Senderoff manages and advises music, creative and entertainment talent and ventures under her Something Gold banner. Shara is also a prominent angel investor with a passion for mentoring young entrepreneurs.
Senderoff is the former Vice President of Film and Digital at The Mark Gordon Company After beginning her career in the film and television industry producing content properties alongside mega-producers including Mark Gordon (Grey's Anatomy, 2012), Scott Rudin (The Social Network) and Kevin Bright ("Friends"), Senderoff founded startup Career Sushi (formerly Intern Sushi), an innovative job platform that hosted tens of thousands of hiring companies and millions of internship and job candidates. Career Sushi's partnership with the music business gave her a front-row seat as to how technology could help solve challenges within the music industry and beyond.
Senderoff has been featured in The Wall Street Journal, TIME Magazine, Forbes, Fortune, TechCrunch, Variety, Cosmopolitan Magazine, The Hollywood Reporter, Entrepreneur Magazine, Billboard, Rolling Stone and more. She is a member of the Young Entrepreneur Council, an active speaker and advisor in the tech, film, career and startup communities and was hand selected as a LinkedIn Influencer where she has over 400,000 followers.
Events featuring Shara Senderoff
Mar 18, 2022
10:00am — 11:00am
Events featuring Shara Senderoff
Mar 18, 2022
10:00am — 11:00am