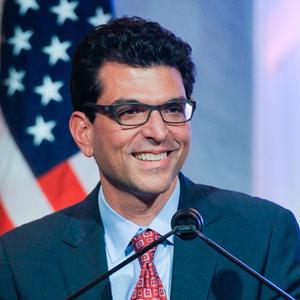 Jason Grumet, founder and president of the Bipartisan Policy Center is respected on both sides of the aisle for his innovative approach to improving government effectiveness and impacting public policy.
Over the last decade, BPC has combined the best ideas from both parties to promote health, security, and opportunity for all Americans. Under Grumet's leadership, BPC has harnessed the power of collaboration to advocate for principled and politically viable policy solutions to major policy challenges facing our country. In the 116th Congress, BPC played a significant role in successful legislative efforts to secure key provisions in coronavirus relief packages enacted into law, strengthen key early childhood programs, accelerate the development of low-carbon energy technologies, expand access to quality health care and retirement savings, and improve the nation's response to the migration crisis at the southern border.
In 2001, Grumet founded and directed the National Commission on Energy Policy, which produced a comprehensive set of policy recommendations many of which were incorporated into the 2005 Energy Policy Act. Previously, Grumet led the Northeast States for Coordinated Air Use Management, where he expanded the organization's technical and advocacy capabilities and increased its presence in national policy discussions.
Grumet regularly authors commentaries and editorials in national publications and participates in broadcast interviews on major cable news networks. He is frequently called upon to testify before Congressional committees on a range of topics, speak at national forums, and supply guidance to policymakers and business leaders.
Grumet is the author of City of Rivals: Restoring the Glorious Mess of American Democracy, released in September 2014.
Grumet received a Bachelor of Arts from Brown University and J.D. from Harvard University. He lives in Bethesda, Maryland with his wife and three children.
Events featuring Jason Grumet
Mar 12, 2022
4:00pm — 5:00pm
Events featuring Jason Grumet
Mar 12, 2022
4:00pm — 5:00pm