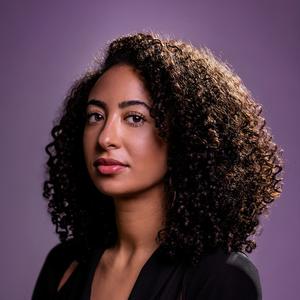 Yasmin Elayat is an Emmy-award winning immersive director whose work pushes the boundaries of immersive narrative and participatory experiences. Yasmin is Co-Founder & Chief Innovation Officer at Scatter, where she heads Creative R&D and innovation initiatives. Scatter is recognized for pioneering the emerging language of Volumetric Filmmaking through its original volumetric film productions and it's AR/VR creativity tools. Scatter's first product Depthkit is the most widely used toolkit for accessible volumetric video capture.
Yasmin directed the Emmy award-winning Zero Days VR (Sundance 2017) a documentary about cyber warfare and the Stuxnet virus. Yasmin co-directed Blackout (Tribeca 2017) an immersive documentary inviting New Yorkers to share their stories in their own voice. She is the co-creator of 18DaysInEgypt, an interactive documentary about the Egyptian Revolution that was lauded as one the Moments of Innovation in Participatory Documentary. Latest project is the Changing Same trilogy, a magical-realist, afro-futurist virtual reality film which explores the cyclical history of racial injustice in America. Changing Same is a co-production between RADA Studio and Scatter. Episode 1 premiered at Sundance 2021 and won "Best Immersive Narrative" at Tribeca Festival.
Yasmin's work has won multiple awards and exhibited at various festivals including Sundance, Tribeca, SIGGRAPH, Festival de Cannes, and the World Economic Forum. Yasmin is also a United States Artists 2020 Fellow.
Events featuring Yasmin Elayat