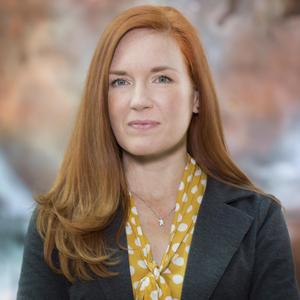 Dr. Amber Straughn (she/her/hers) is an Astrophysicist at NASA's Goddard Space Flight Center in Greenbelt, MD and is a member of the Webb Space Telescope Project Science Team. She also serves as the Associate Director of the Astrophysics Science Division.
Amber grew up in the small farming town of Bee Branch, Arkansas where her fascination with astronomy began under beautifully dark, rural skies. She obtained her B.S. in Physics at the University of Arkansas in Fayetteville in 2002, and completed her M.S. and Ph.D. in Physics at Arizona State University in 2008. She has been involved in NASA programs since her undergrad years, beginning with flying an experiment on NASA's microgravity KC-135 plane (the "vomit comet") in 2001.
Amber is interested in how galaxies change over time. Specifically, how important are galaxy interactions in the overall picture of how galaxies grow? How do supermassive black holes, star formation, and gas inflows and outflows affect galaxy evolution over cosmic time? These questions are central to NASA's long term goal of discovering how the universe works and exploring how it began and evolved.
In addition to research, Amber's role with the JWST science team involves public speaking and media engagement. She frequently speaks to large audiences in the US and internationally. Amber has done numerous live television interviews and media features for NASA, and has appeared on CBS 60 Minutes, PBS NOVA, The Discovery Channel, The Science Channel, NatGeo, BBC, the History Channel, and in the Late Night with Jimmy Fallon's "Hubble Gotchu" segment.
Amber lives in Maryland with her husband Matt and her two Great Danes. Her love of all things air and space prompted her to become a pilot; she earned her Private Pilot's license in 2013 and owns a Cessna 182 which she has flown all over the country. She has been an active yoga practitioner since grad school, loves to hike, and is a huge fan of live music (especially Pearl Jam).