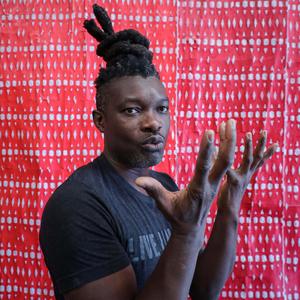 Olaniyi Rasheed Akindiya Akirash
Olaniyi Rasheed Akindiya aka AKIRASH, was born in Lagos, Nigeria. He earned his first BSC degree in BIOCHEMISTRY from the Federal University of Agriculture Abeokuta Nigeria (1991), going on to study Fine and Applied Art at Institute of Textile Technology Art & Design Lagos (1995). He now lives and works between Lagos and Austin Texas.
Olaniyi is a recipient of Foundation for contemporary arts emergency grants 2019, The Otis & Velma Davis Dozier Travel Grant Award From DMA 2019, the CORE Funding from Cultural Art Division Austin 2018, the Innovative Artist Award from Mid America Artist Alliance (MAAA / NEA) for 2017, Pollock Krasner Foundation Award 2016/17 & 2011, Cultural Initiative & Capacity Building Grant, Culture Alive Austin 2016/17, The Santo Foundation grant 2015, and The Commonwealth Connection Award UK 2011.
Events featuring Olaniyi Rasheed Akindiya Akirash
Events featuring Olaniyi Rasheed Akindiya Akirash