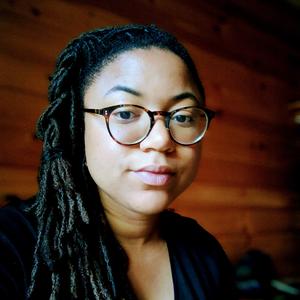 Jackson (b. 1991; Monroe LA) grew up between New Orleans & Mamou, Louisiana. She currently lives and works in Austin, Texas where she completed her Master of Fine Arts degree at The University of Texas at Austin in 2019.
Themes of collective wisdom and transformation are embedded in Jackson's interest and application of sculpture, video, and performance with a focus on land as a site of negotiating lexicons of symbols and meaning. How sense of place is learned and passed on circulate throughout her most recent work. Oral stories, poetry, and research are juxtaposed, highlighting dissonance between interior and exterior realities.
Jackson is an alum of the Skowhegan School of Painting and Sculpture (2019) and completed an exchange program at the Royal College of Art in 2018. Her work has been shown at the SculptureCenter (2019); CUE Art Foundation (2018); Contemporary Art Center, New Orleans (2018); Depaul Art Museum (2018); Studio Museum in Harlem (2016), and RISD Museum (2017).
Events featuring Ariel René Jackson
Events featuring Ariel René Jackson