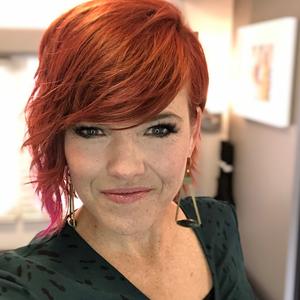 Vickie Howell is the creator/host of The Webby Awards Honoree and Tellys People Choice Award Winner, The Knit Show with Vickie Howell, the first studio-quality, community funded, internationally accessible, episodic knitting series. To date the show's channel has over 350,000 views, and viewers watching from 19+ different countries.
Vickie is well-known as host of TV shows including DIY & HGTV series, "Knitty Gritty", host and co-executive producer of Telly Award-winning PBS show, Knitting Daily with Vickie Howell. She is also an internationally recognized blogger, speaker, CreativeLive and Brit+Co. instructor, and author of 13 books. Vickie has produced thousands of hours of programming through a variety of channels including her podcast, CRAFT*ish, and the longest-running Facebook Live series in the genre, Ask Me Monday.
Vickie has had several co-branded product lines and worked as a consultant, spokesperson & ambassador for major brands including Yarnspirations, Land's End, JoAnn, Ragu, Cannon, Inkjoy, and Visible Mobile.
As a young woman (age 19) in the entertainment industry, Vickie learned the hard way that her gender meant she had to work harder and smarter to get ahead. After leaving TV production to raise her first two kids, she found her entrepreneurial skills kick in as a sanity saver during those difficult first few years as a new mom. Before blogs or Etsy, she was one of the first few to start online handmade businesses which laid the groundwork for her reemergence into the work she loves: DIY and broadcast. There's a scrappiness one must have when creating something for themselves, as well as the necessity of staying true to one's passions.
Vickie's subscription box business YarnYAY! has sold out every month since its launch. Her 13th book, The Knit Vibe: A Knitter's Guide to Creativity, Community, and Wellness (Abrams) is now on shelves.
Events featuring Vickie Howell