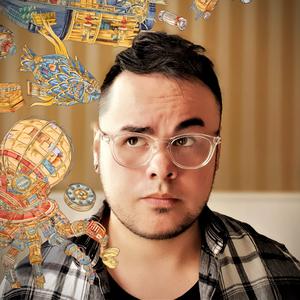 Marc O Matic is one of Australia's pioneering immersive media artists, inspiring international audiences, artists and technologists alike through his creative approaches to Augmented Reality. An XR Auteur, Marc is a multidisciplinary army of one Illustrator, Animator, Storyteller, Director and XR Technologist blending fusions between analogue mediums, 2D/3D animation and game engine technologies to create experiential and interactive storytelling experiences; bringing objects and artworks to life in front of audiences. Blurring boundaries between perception and reality, Marc utilises Augmented Reality as a means to break through conventional norms of storytelling, offering viewers an opportunity to explore and understand subject matter in more intimate ways.
Possessing a highly intricate visual art style with a passion for world building and storytelling, Marc's work extends beyond creative industries as he works closely with tech companies, educational institutions, universities and city councils to visualise complex subject matter into engaging and immersive visual narratives.
Marc-O-Matic's work has been featured Internationally in the United States including South by South West, San Francisco's Game Developer's Conference, Silicon Valley's VR Association and has more recently showcased in Seoul and Japan demonstrating XR Storytelling with Samsung, LG and Sony Interactive Entertainment.
More examples of his work can be found below:
https://www.facebook.com/pg/mr.marcomatic/videos
https://www.marcomatic.com
Events featuring Marc O Matic