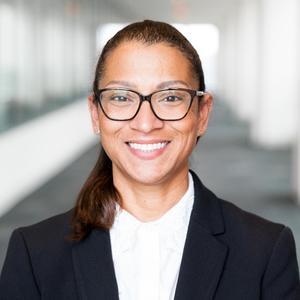 NaThanya Ferguson is a supervisory innovation development program manager in the USPTO's Office of Innovation Outreach, which focuses on outreach and engagement of independent inventors, small businesses, entrepreneurs, university inventors, and underserved communities across America.
Ms. Ferguson joined the USPTO in 1989. During her 31-year tenure at the agency, she has worked as a paralegal specialist in the Patents technology centers, lead patent analyst for the Patent Reengineering Lab, management and program analyst in the Science and Technology Information Center, contracting officer and technical representative in the Office of Data Management, senior advisor to the Deputy Commissioner for Patents Administration, and strategic planning project manager in the Office of the Deputy Commissioner for Patent Operations.
Ms. Ferguson has received numerous awards, including a Department of Commerce Gold Medal in 2015 for her contribution to the innovative and collaborative implementation of the First Inventor to File statutory provisions of the America Invents Act, a Department of Commerce Distinguished Career Award in 2011 for continued outstanding service, and a Silver Medal Award in 1999 for her contribution to the development and implementation of the Patent Reengineering initiative.
Ms. Ferguson holds a Bachelor of Science degree in business and management from Johns Hopkins University and a Master's Certificate in project management from Management Concepts and Regis University.