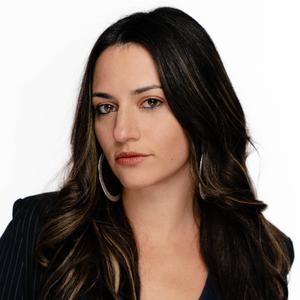 Named one of Variety's "10 Producers to Watch" in 2023, Valerie Steinberg is a creative producer based in Los Angeles, who develops and produces films and television globally.
Recent credits include Executive Producer of A24's The Inspection (TIFF '22, Golden Globe nominee, three-time Indie Spirit and Gotham Award nominee), as well as Executive Producer of Riley Keough's directorial debut War Pony, which won the Caméra D'Or at Cannes '22.
She is the lead producer of Karmalink (dir. Jake Wachtel), a Cambodian Buddhist sci-fi feature film executive produced by XYZ Films, which was the opening night film of Venice Film Critics' Week '21, and was released theatrically summer '22. She EP'd a new feature film called SILVER STAR (dir. Ruben Amar and Lola Bessis), which will hit festivals in 2024.
She served as Executive Producer on all 21 episodes of Disney's Bite Size Halloween series on Hulu, season 3, which showcases emerging genre filmmakers.
Her award-winning short films – which have been distributed on HBO Max, Hulu, and Criterion Channel – include Hair Wolf (dir. Mariama Diallo; Sundance Jury Award winner for US Fiction Short Film), The Breakthrough (dir. Dan Sinclair, starring Ben Sinclair and Greta Lee), Blocks (dir. Bridget Moloney; Sundance, SXSW), Fry Day (dir. Laura Moss; SXSW, Tribeca winner), Rise, Again (dir. Josephine Decker), Coffee Shop Names (dir. Deepak Sethi; Tribeca X Award), Freeze (dir. Maya Albanese; Oscilloscope), Metronome (in Time) (dir. Scott Lochmus; Tribeca), and Everybody Dies! (dir. Nuotama Bodomo; SXSW '16 in Collective:Unconscious omnibus).
Valerie has been honored with selections by the Sundance x Women in Film Financing Lab, the Rotterdam Lab, Berlinale Talents, Venice Biennale College Cinema program, Gotham Week Co-Production Market, Film Independent Producing Lab, Film Independent Fast Track, and Tribeca All Access, and the Hong Kong Asia Film Financing Forum.
Valerie earned her BA in Philosophy and Chinese at Yale University.
Events featuring Valerie Steinberg
Events featuring Valerie Steinberg