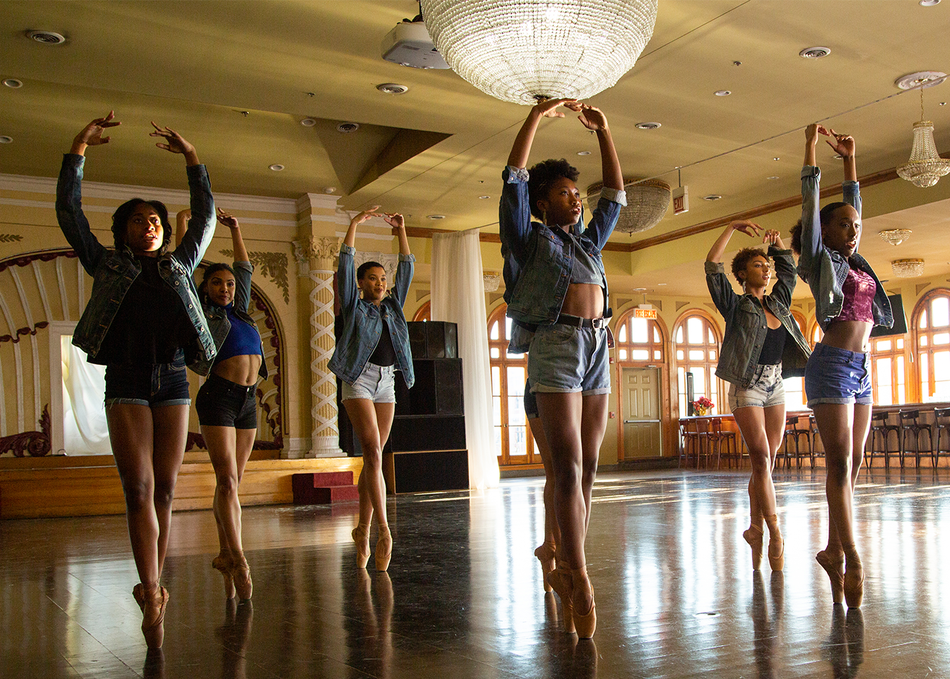 Program Details:
Primary Entry: Platinum Badge, Film Badge
Secondary Entry: Music Badge, Interactive Badge, Film Festival Wristband
Genre: Documentary
Runtime: 102 mins
Program Includes:
Created with the intention to inspire young Black women and men, this film brings the Hiplet ballerinas to center stage. Hiplet fuses classical pointe technique with hip-hop and urban dance styles.
This film showcases how amazing and gifted these young Black girls are, how they've battled adversity within the dance community online and how they are pushing the culture forward.
"Hiplet: Because We Can" was shot in Chicago on the South Side at the Grand Ballroom, a hidden gem that opened back in 1923 once known as the Cinderella Ballroom.
---
Abigail Goldman spends her work days as an investigator for a public defender's office in Washington state, helping people who are seriously in trouble—which can mean hours of staring at grisly pictures of crime scenes, visiting morgues, even observing autopsies. By night, she dreams up gruesome events, which she then turns into tiny, precise dioramas. In this new documentary short, we follow along as Goldman brings her miniature worlds of murder and mayhem to life with tweezers, paint, and resin, and meet the people who just can't get enough of her twisted visions—where the final touch is always, in the artist's words, "two or three brushstrokes of red paint."
---
A band of juveniles embark on a 24-hour spree of breaking into houses and causing a ruckus.
---
When the Philadelphia public-school system began losing almost all the funding for its music-education programs in 2007, hundreds of instruments in need of repair were left for dead, and community members moved to action. With this film we are introduced to a few of the innovators, educators, volunteers, advocates, and musicians behind Symphony for a Broken Orchestra, a music and art project begun in 2017 that raised awareness for the issue, helping to get those broken instruments back into Philadelphia students' hands.
---
At 93, there's no stopping when it comes to the legendary artist Betye Saar.
---
For many Asian American women—and other women of color—Claudia Kishi was the first time they saw themselves in popular media. A main character in the best-selling Baby-Sitters Club books, Claudia defied stereotypical portrayals of Asian characters: she was creative, popular, and bad at school. As a blossoming artist, she was a role model for aspiring young creators—many of whom are now making groundbreaking work of their own. Asian American artists and writers share their memories of Claudia and read from their favorite books, alongside stop-motion collages that bring the character to life. Nostalgic yet timely, this film highlights the personal and universal importance of representation.
---
Once a year, 30,000 quilters descend upon Paducah, Kentucky for its annual quilt competition, doubling the town's population. "Quilt Week" or "the Academy Awards of quilting" is a huge spectacle featuring quilt celebrities, a nonstop local TV channel ("The Quilt Channel") and others passionate about the craft. The film weaves through quilter stories, backboned by the exciting competition. Even though almost everyone has a smile on their face, the film pays tribute to the deep motivators that make people quilt.
---
Radical Love explores the subversive political activism and fierce love connection of Michael and Eleanora Kennedy, a husband-wife legal team who represented a who's who of the politically subversive class in the 1960s and 70s. At the center of the story is their most notorious clients and closest friends, founding members of The Weather Underground Bernardine Dohrn and Bill Ayers. Now as a widow, Eleanora reflects on a marriage and life in the crosshairs of politic activism, government surveillance, and deep passion.
---