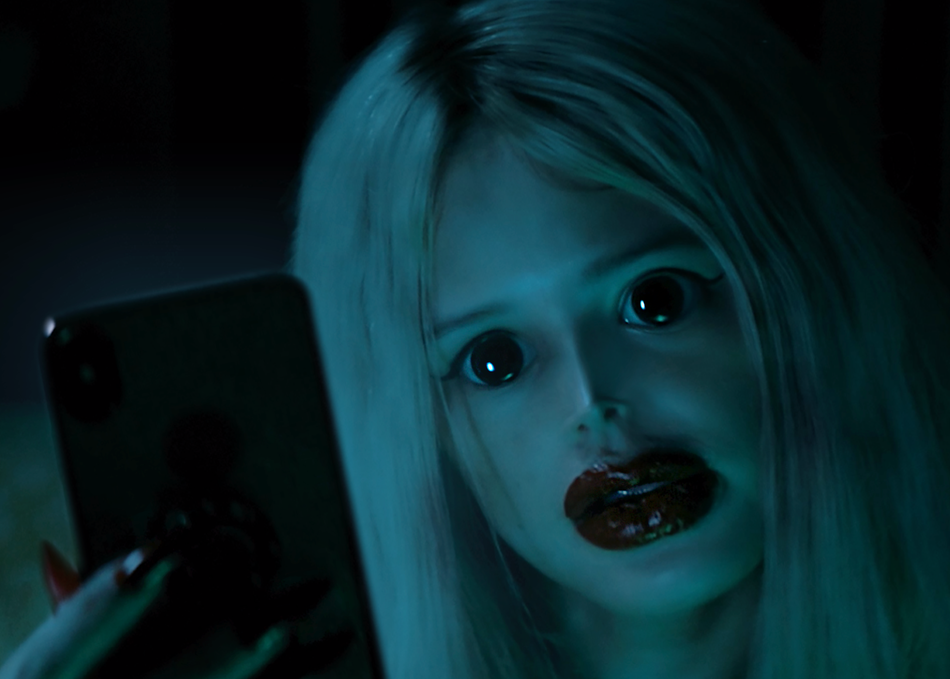 Program Details:
Primary Entry: Platinum Badge, Film Badge
Secondary Entry: Music Badge, Interactive Badge, Film Festival Wristband
Genre: Comedy Horror Thriller
Runtime: 104 mins
Program Includes:
Stucco is the first narrative offering from Janina Gavankar (The Way Back, Morning Show, Blindspotting, True Blood) and Russo Schelling (Mr. Robot, The Mysteries of Laura). This left-of-center film is reminiscent of the slow-burn thrillers of the 70s, using practical effects to conjure the feelings we're least proud of. This is a film about guilt, depression, and the feeling of stasis.
J is trying and failing to move forward. While hanging a piece of art in her new home, she knocks a hole in her wall revealing what might be another room. Her mind races to think what could be on the other side as she continues to unravel, with the scars of old relationships keeping her trapped inside.
---
During an extreme heat wave, a shy girl seeks refuge in an ice cream shop. But when she looks into the eyes of the charming vendor, she is on thin ice.
---
Cleanliness is next to godliness. A celebration of objectophilia (the love of objects) and self-pleasure. Soundtracked by Neiked and their globally charting smash hit song 'Sexual'. Directed by Grammy nominated and UK Music Video Awards winner David Wilson and starring queer performance artist Harry Clayton-Wright.
---
Only a formal handshake separates two politicians from a sealed contract. But as both stubbornly try to gain the upper hand within the gesture, their grim intransigence takes on a monstrous life of its own.
---
Helene is spending what seems to be a romantic week-end in French countryside until she has an argument with her lover and gets furious. She decides to flee away and finds herself into rural landscapes, clueless. Nature takes back its rights. The hunt is open. Helene becomes « the doe ».
---
Following the death of his father, a man must survive the manifestations of his inner demons over the course of a dreary night.
---
Two sisters have been driving all night when they come across a dilapidated roadside park and bathroom. Horrific events follow when one of them stumbles upon a strange message and a mischievous resident that wants to play a terrifying game.
Featuring practical effects by two-time Academy Award Nominee Arjen Tuiten ("Maleficent: Mistress Of Evil," "Wonder," "Pan's Labyrinth," "Ghostbusters: Afterlife") based on designs by WETA Workshop.
CAST: Allisyn Snyder (NBC's "AP Bio"), Clare Grant ("Robot Chicken," "Changeland"), Steve Agee ("Guardians Of The Galaxy 2," and the upcoming "The Suicide Squad"), and Sarah Anne Williams ("League Of Legends") as the Lonely Child
---
After an intimate online courtship, Danny and Cleo decide to meet in person for the first time. Moments after Cleo's arrival, and unbeknownst to her, Danny accidentally discovers something utterly shocking in her luggage. As they arrive at Danny's home and begin to settle in, it's just a matter of time before Cleo realizes what he's found. And when she does, the night escalates into a nightmarish comedy of errors. Amidst the chaos, their mutual vulnerability and desire to connect pierces through, and changes their lives forever.
---
Chilli, a screen-obsessed teen, encounters an instagram pic warning her to 'like this post' or the Dickless Troll will eat her blood.
Deeming the photo a fake chain mail, Chilli scrolls past it and goes to bed.
But the Dickless troll is real, and he's hungry.
Hungry, for validation.
---
In a world where social media app Selfie dominates over Instagram and TikTok, insecure teenager Sarah has had enough. She no longer wants to subscribe to the culture of presenting a perfect online persona. In a moment of clarity, Sarah makes the unpopular decision to delete her accounts. But, the "perfect" version of herself that she's given power to online won't be deleted that easily...
---
Desperate to rid herself of a recurring nightmare, a young woman seeks help from her therapist.
---