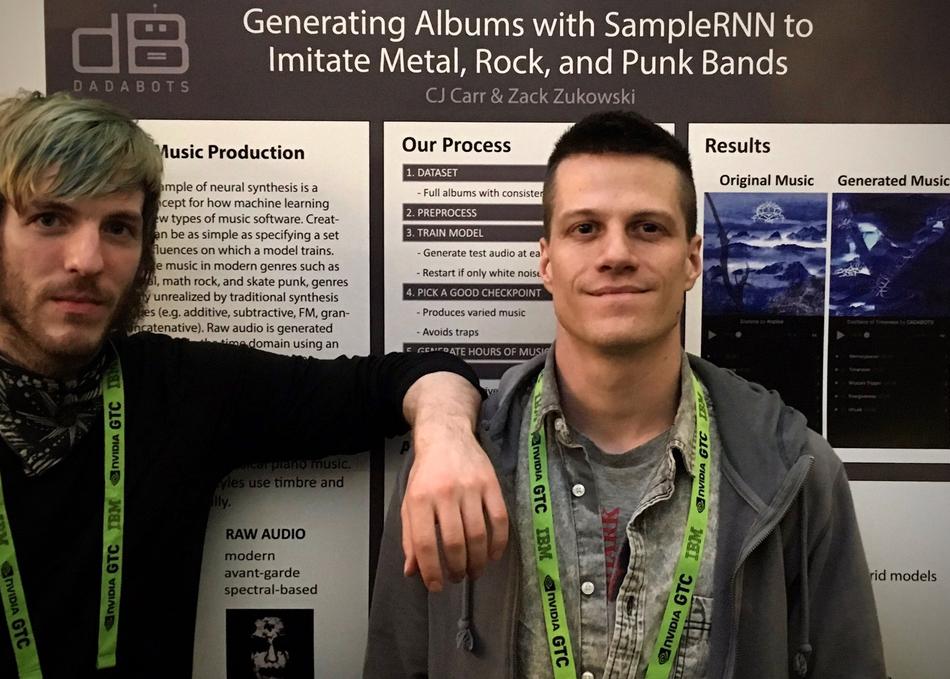 Not sure what Dadabots is. We're a cross between a band, a hackathon team, and an ephemeral research lab. We're musicians seduced by math. We do the science, we engineer the software, we make the music. All in one project. We make raw audio neural networks that can imitate bands and have been generating music via livestream 24/7 to infinity on Youtube and Twitch throughout the past year.
But generating music was not enough, and so we sought to collaborate with artists with a similar vision. Enter UK beatboxer Reeps One. He worked with us to create "Second Self:" a machine that imitates his voice and performs a duet with him. After showcasing this in the documentary "We Speak Music" and the Ars Electronica Festival, we knew it was time to take Dadabots to the live stage.
Now, we perform live mashups sourced from an AI's interpretations of our favorite artists. Much like crate-digging turn-tablists have done in the past, we rummage through hours of the AI's creations. Then we curate and present its findings. The result is a hybrid of sound - melding metal, free jazz, electronic, skate punk, and mathrock into a dance-friendly set.
Subgenre: Electronic
From: Boston, MA