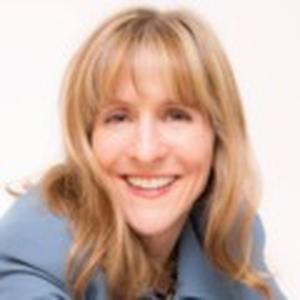 Kathy Klotz-Guest, MA, MBA, is a story and big idea strategist,
author, speaker, and comedian. In short, she helps organizations have breakthrough idea orgasms for better content, marketing, and products.
Kathy spent 15 years in high-tech marketing and has 20 years in stage comedy. Her company, Keeping it Human, is a mash-up designed to banish boring marketing. Her mission is to help organizations and teams turn jargon-monoxide into compelling business stories and uncover bold ideas for marketing content, products, branding and more. She calls them idea orgasms! You can give them to yourself or to others.
Applied Improv isn't about theatricality; it's creative fuel. It's about using elements from the stage to innovate new ideas with other people. Watch "Whose Line is it Anyway?" and you'll see how people create magic together. Applying some of these collaborative approaches, teams can create better content, products and ideas together. Those are idea orgasms - those a-ha innovation moments. And, yes, improv is fun, too!
A podcaster (Keeping it Human's Improvised Marketing Show), stand-up comic and improviser, Kathy has written two other short books on humor, content, and storytelling (The Executive's Bedtime Guide series) in addition to her latest book, "Stop Boring Me! How to Create Kick-Ass Marketing Content, Products and Ideas Through the Power of Improv" on Amazon. Her work has been published in Convince and Convert, Business of Story, Marketing Profs, Ragan.com, PR Daily, Business2Community, and CustomerThink. She has worked with organizations including Cisco Systems, Kaiser Permanente, Stanford University, IBM, Genentech and United Way Silicon Valley to name a few places on great storytelling and generating content ideas. She has taught at Berkeley and at Stanford Continuing Studies in innovation.
Her 8-year-old is still her favorite audience to make laugh. That window is closing soon.
[Programming descriptions are generated by participants and do not necessarily reflect the opinions of SXSW.]
Events featuring Kathy Klotz-Guest
Mar 12, 2019
11:00am — 12:00pm
Events featuring Kathy Klotz-Guest
Mar 12, 2019
11:00am — 12:00pm