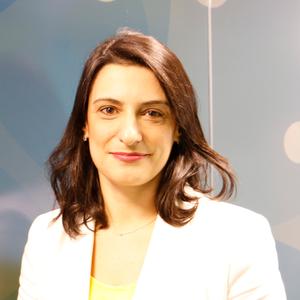 Mariana Perroni is a practicing critical care physician and an enthusiast in the intersection between technology and health.
She is currently the Medical Advisor for the Watson Health unit at IBM Latin America, responsible for exploring and supporting the development of strategies involving technology (especially artificial intelligence) as a vector of transformation of Health and Medicine, helping to solve chronic challenges of the sector.
Previously, Mariana was the medical coordinator for projects involving Watson for Oncology, Watson for Genomics and Watson for Drug Discovery. She is also a member of the HOPE Global Clinical Council and the Technical Leadership Council at IBM Brazil.
Mariana is a Healthcare futurist, TEDx speaker and frequently invited to be a speaker at relevant events in the health sector in her country (Hospitalar, Hospital Innovation Show, Médicos SA), innovation and futurism (such as Singularity Summit, Festival Path and Friends of Tomorrow Conference) respected press vehicles (Folha, Estadão, Época, Valor, among others).


Programming descriptions are generated by participants and do not necessarily reflect the opinions of SXSW.
Events featuring Mariana Perroni
Events featuring Mariana Perroni