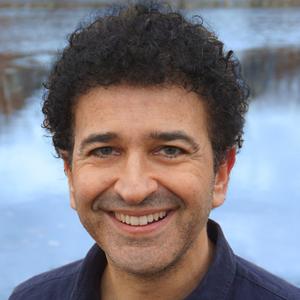 Safi Bahcall is the author of Loonshots: How to Nurture the Crazy Ideas that Win Wars, Cure Diseases, and Transform Industries (St. Martin's Press, March 2019), which has been selected for Washington Post's "10 Leadership Books to Watch for in 2019," Inc.'s "10 Business Books You Need to Read in 2019," and Business Insider's "14 Books Everyone Will Be Reading in 2019."
Loonshots reveals a surprising new way of thinking about the mysteries of group behavior that challenges everything we thought we knew about radical breakthroughs.. Safi shows why teams, companies, or any group with a mission will suddenly change from embracing wild new ideas to rigidly rejecting them, just as flowing water will suddenly change into brittle ice. Loonshots identifies the small shifts in structure—rather than culture—that control this transition, the same way that temperature controls the change from water to ice.
Using examples that range from the spread of fires in forests to the hunt for terrorists online, and stories of thieves and geniuses and kings, Safi shows how this new kind of science helps us understand the behavior of companies and the fate of empires. Loonshots distills these insights into lessons for creatives, entrepreneurs, and visionaries everywhere.
Safi received his BA in physics summa cum laude from Harvard and his PhD from Stanford, where he worked with Lenny Susskind in particle physics (the science of the small) and the Nobel laureate Bob Laughlin in condensed matter physics (the science of the many). He was a Miller Fellow in theoretical physics at UC Berkeley (the school of the many). After working for three years as a consultant for McKinsey, Safi co-founded a biotechnology company developing new drugs for cancer. He led its IPO and served as its CEO for 13 years.
In 2008, Safi was named E&Y New England Biotechnology Entrepreneur of the Year. In 2011, he worked with President Obama's council of science advisors (PCAST) on the future of national research.
He lives with his wife, two children, and roughly 37 Gerald and Piggie books in Cambridge, MA.


Programming descriptions are generated by participants and do not necessarily reflect the opinions of SXSW.
Events featuring Safi Bahcall