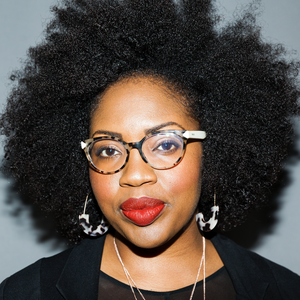 Janice Bond lives and breathes as both creator and creative strategist. From Texas to Tokyo, local art exhibitions to international music festivals, her forward thinking/high-energy approach has been utilized to develop a myriad of programs and experiences across the globe. Bond's interest and investments in cultural production stem from her passion for developing more transformative, inclusive, and sustainable creative economies.
In the community, Janice lends her time to multiple organizations and institutions as a gracious speaker, board member, volunteer, and mentor. From 2013 to 2015, she served as Director of Arts and Culture at IMAN with a focus of using art as a foundation and pathway for social justice and restorative healing on Chicago's southwest side and in similar marginalized communities. In 2015, The Art Allies was launched, an initiative created to educate and develop art collectors and arts entrepreneurs. In 2016, Janice Bond became the Director of Music and Social Programming for The Kimpton Gray Hotel in Chicago, Illinois, then relocated in 2018 to become the Director of Music and Social Programming at Hotel Van Zandt in Austin, Texas.
As a visual/multimedia artist, Bond's photography, minimalist paintings, installations, and soundscapes are inspired by the multidimensional terrain of human perspectives and identity, sacred geometry, sound frequencies, and indigenous fractal patterns found in various cultures and urban landscapes. In 2016, Janice was selected to participate in the first I International Photography Symposium in Daugavpils, Latvia hosted by the Mark Rothko Art Center. Several of her original works from the series "Beyond the Binary" were added to their permanent collection.
It is this textured and chromatic tapestry of art making and administration that continues to influence and illuminate her each day.
[Programming descriptions are generated by participants and do not necessarily reflect the opinions of SXSW.]