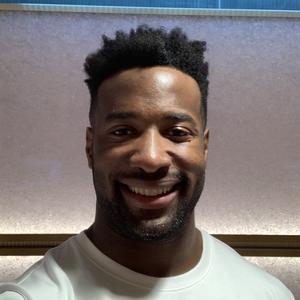 Joshua Martin is a vigorous athlete, a social activist, and a financial literacy advocate carving out his place in the stadium, as well as in the community. As a dynamic six
-year NFL veteran, Martin has thrived as an outside linebacker for the New York Jets since 2015. At just 25, this Texas native is consistently devoted to bettering himself, as well as the lives of his teammates and his world. The oldest of six kids, Martin first discovered his love of football during his freshman year at Cherokee Trail High School. He went on to receive an all-Ivy League education from Columbia University, where he was deemed 2012's Most Valuable Player of the year.
In addition to football, his passions are numerous. While serving as the NFL's Personal Finance Bootcamp Player Ambassador, Martin believes in promoting NFL players' endeavors off of the field, their involvement in their communities, and their preparation for careers after football.
Just as he set a good example for his younger siblings, Martin strives to be a role model for his fans. His volunteer work tackles much of his time away from the turf – he is an active volunteer for NFL PLAY 60 and a supporter of Project Rousseau.
Martin's hobbies include traveling the world, listening to jazz (he played three instruments as a child), attending various concerts and shows throughout New York City, and discovering the next best restaurants as a self-proclaimed foodie. He is a team player, a community leader, and an innovative entrepreneur. This savvy linebacker packs heart, hustle, and brainpower into a 6'3" frame and he's just getting started.


Programming descriptions are generated by participants and do not necessarily reflect the opinions of SXSW.
Events featuring Josh Martin
Mar 8, 2019
12:30pm — 1:30pm