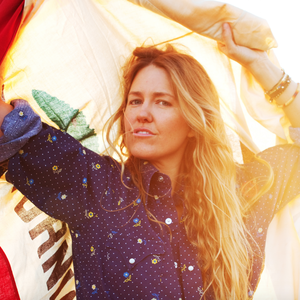 Paige Mycoskie is the founder & creative visionary behind the 1970's inspired California lifestyle brand, Aviator Nation.
Aviator Nation was born in Paige's garage in Venice Beach, 2006, and has since grown into a global lifestyle brand with 13 destination retail locations. Abbot Kinney (2009), Manhattan Beach (2011), Malibu (2014), Haight Ashbury (2015), Laguna Beach (2016), Aspen (2017), Austin (2018), Mill Valley (2018), La Jolla (2019), Hayes Valley (2019), North Shore (2019), Miami (2019), Las Vegas (2020).
Paige's passion for 1970's fashion and the music that defined that time period inspired her to create her own clothing stitched by hand. While working at a surf shop in Southern California, she purchased a sewing machine and spent nights after work teaching herself to sew, determined to create garments with the same look and feel of the vintage pieces she had been collecting for years.
Paige first sold Aviator Nation at a local street fair in 2007 and immediately witnessed its business potential after quickly selling out of every style. In 2009, she opened the first Aviator Nation retail store in Venice, California, on Abbot Kinney Blvd. The laid-back 70's vibe of Aviator Nation drew locals and tourists. Paige began hosting free concerts on the back patio of her Flagship store to support her other defining passion, music. Paige believes in the universal power of music to unite people for positive change.
From music festivals to shop in shops to launching an Aviator Nation flagship on the corner of Haight / Ashbury in San Francisco, Paige has taken her unique approach to fashion design and created a global niche market. She has tailored the act of buying a hoodie into a nostalgic experience. Her garments are all handmade in California, in the Aviator Nation factory where each item is distressed to a degree of perfect imperfection, creating a one of a kind piece. Keeping the garments made in America is a core value of the brand.
Events featuring Paige Mycoskie
Mar 8, 2019
5:00pm — 6:00pm
Events featuring Paige Mycoskie
Mar 8, 2019
5:00pm — 6:00pm