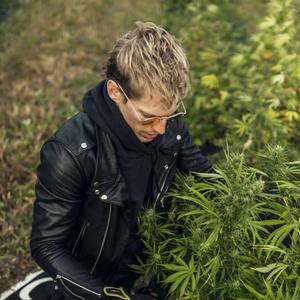 Matthew 'Mills' Miller launched MINERAL somewhere between death and delirium in Austin, Texas in 2016. After an amoeba parasite attempted to claim his colon while summiting Mt. Pisco in Peru. Mills choose CBD oil over the doctor recommended colectomy to reduce the inflammation in his lower abdomen. That decision both saved and changed his life.
Throughout his recovery, Mills began educating the cannabinoid curious on the benefits of CBD oil predicated on his personal near death experience. What started out as an online wellness journal quickly amassed a large captive audience that encouraged Mills to apply his knowledge and experience to bring his own CBD formulations to market.
Mills obsessed over product development, visiting hemp grows all over the country and worked with farmers and formulators until he was able to create MINERAL's specific hemp genetics and a 1 of 1 formulation. MINERAL's first product, BALANCE, a CBD oil tincture, serves as the base in all MINERAL formulations, including SLEEP, FOCUS, and RESTORE.
Mills is currently fine-tuning a complete line of MINERAL plant medicine bath and body products that maintain his unrivaled level of sophistication, elegant aesthetics and proprietary genetic formulations.
In 2019, Mills opened his first MINERAL retail location and "cannabis perfumery" on E 6th Street in Austin where only MINERAL products will be sold. In May 2019, Mills will be growing 250 acres of MINERAL's proprietary hemp genetics that will exclusively be extracted for MINERAL products.


Programming descriptions are generated by participants and do not necessarily reflect the opinions of SXSW.
Events featuring Mills Miller