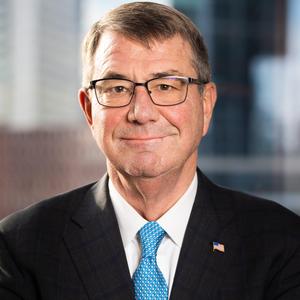 Ash Carter is a former United States Secretary of Defense and the current Director of the Belfer Center for Science and International Affairs at Harvard Kennedy School, where he leads the Technology and Public Purpose project. He is also an Innovation Fellow and corporation member at MIT.
For over 35 years, Secretary Carter has leveraged his experience in national security, technology, and innovation to defend the United States and make a better world. He has done so under presidents of both political parties as well as in the private sector.
As Secretary of Defense from 2015 to 2017, he pushed the Pentagon to "think outside its five-sided box." He changed the trajectory of the military campaign to deliver ISIS a lasting defeat, designed and executed the strategic pivot to the Asia-Pacific, established a new playbook for the U.S. and NATO to confront Russia's aggression, and launched a national cyber strategy.
Secretary Carter spearheaded new technological capabilities and a more agile approach to the relationship between the Pentagon and the tech sector. He also transformed the way the Department of Defense recruits, trains, and retains quality people, opening all military positions to women without exception.
He earned a BA from Yale University and a PhD in theoretical physics from Oxford University as a Rhodes Scholar.
Andrew Diiorio
Email: andrew_diiorio@hks.harvard.edu
Phone: 617-384-6951
[Programming descriptions are generated by participants and do not necessarily reflect the opinions of SXSW.]
Events featuring Ash Carter
Mar 9, 2019
11:00am — 12:00pm
Presented by
Booz Allen Hamilton
Events featuring Ash Carter
Mar 9, 2019
11:00am — 12:00pm
Presented by
Booz Allen Hamilton