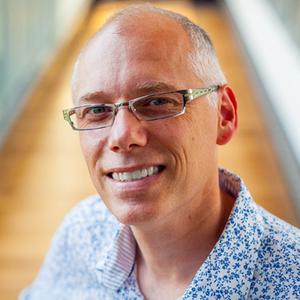 I am an interaction/service designer and researcher at Carnegie Mellon's HCI Institute. I am the Tang Family Professor of Artificial Intelligence and Human-Computer Interaction. For the last seventeen years, I have taught courses in interaction design, service design, lean startup, and in the design of AI products and services. My hundreds of former students work all across the tech industry and also in healthcare and government.
My research investigates the intersection of UX and AI, human-robot interaction, crowds and social computing, and research through design as an approach to scholarly research. Some current projects include working with AI as a design material, robot re-embodiment (when should a robot social presence jump from one body to another), and how maker tools, such as laser cutters and CNC machines, can function more as collaborators that help people achieve their desired outcomes.
Prior to joining Carnegie Mellon, I worked at Philips Research, investigating future interactive TV products and services. While at Philips, I co-invented a method of scrolling for touchscreens that is currently on almost every smartphone and tablet in use today.
Events featuring John Zimmerman
Mar 12, 2019
2:00pm — 3:00pm