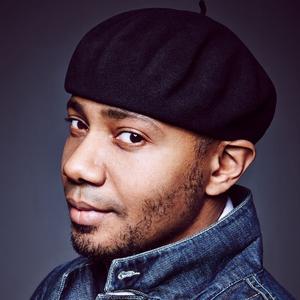 Paul D Miller (aka DJ Spooky)
Paul D. Miller aka DJ Spooky is a composer, multimedia artist and writer whose work immerses audiences in a blend of genres, global culture, and environmental and social issues. His written work has been published by The Village Voice, The Source, and Artforum, among others. Miller's work has appeared in the Whitney Biennial; The Venice Biennial for Architecture; the Ludwig Museum in Cologne; Kunsthalle, Vienna; The Andy Warhol Museum in Pittsburgh, the Miami/Art Basel fair, and many other museums and galleries. Miller's award-winning book "Rhythm Science" was published by MIT Press 2004, and was followed by "Sound Unbound," an anthology about electronic music and digital media, in 2008. "The Book of Ice", an experiential visual and acoustic portrait of the Antarctic, was published in 2011 by Random House.
Miller has collaborated with a vast array of recording artists, ranging from Metallica to Chuck D; Steve Reich to Yoko Ono. Miller was the first Artist in Residence at the Metropolitan Museum of Art, where he premiered his work "A Civil War Symphony" in 2013. In 2014, Miller was named a National Geographic Emerging Explorer, an honor recognizing visionaries at the forefront of global problem solving. Recent projects include "Peace Symphony," commissioned by UN Peace Boat, "Hidden Code," a new planetarium show commissioned by Dartmouth College in collaboration with Museum of Science Boston, "Forest Symphony" commissioned by Oregon State University, the CD/DVD of "Rebirth of a Nation" on Cantaloupe Music, and the publication of his fourth book "The Imaginary App" from MIT Press.
Miller is the 2017-2018 recipient of the The Hewlett 50 Arts Commission Award which supported the creation of "QUANTOPIA: The Evolution of the Internet" a multimedia performance and a VR installation based on the history and evolution of the internet, which premiered at San Francisco's YBCA in January 2019. DJ Spooky will release his new album "The Invisible Hand" commissioned by Breaker,
[Programming descriptions are generated by participants and do not necessarily reflect the opinions of SXSW.]
Events featuring Paul D Miller (aka DJ Spooky)
Mar 12, 2019
3:30pm — 4:30pm