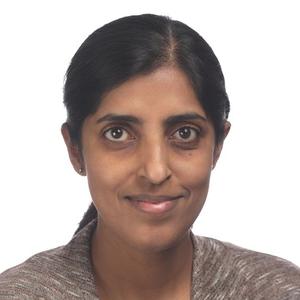 Dr. Nishi Viswanathan is a Nishi is a medical doctor turned cancer researcher turned entrepreneur. She is currently a Director in the Health Product Innovation team at Dell Medical School. In this role, Nishi leads Texas Health Catalyst, a program designed to move clinically and commercially viable healthcare technologies to the market where they can impact patient care.
Over the past 8 years, Nishi has worked with the bioscience division of Austin Technology Incubator and several life science startups including university-spinoffs, helping with strategy, business planning and fundraising. Prior to joining Dell Medical School, Nishi was the Director of Marketing and Product Development at a nanotechnology startup that develops and commercializes theranostic solutions for cancer imaging and drug delivery.
In addition to her medical degree, Nishi holds a masters degree from the College of Natural Sciences at UT Austin and an MBA from the McCombs School of Business at UT Austin. Her career goal is to make broad and substantial improvements to healthcare outcomes through research, innovation and commercialization of technologies that can truly make a difference.


Programming descriptions are generated by participants and do not necessarily reflect the opinions of SXSW.
Events featuring Nishi Viswanathan
Mar 11, 2019
2:00pm — 3:15pm