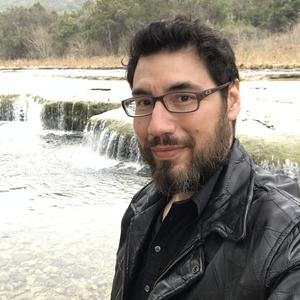 Tom Alvarado is a storyteller with experience working in video games, film, TV, online video, and animation. As a child, he learned English from comic books, which ignited his passion for storytelling (and for justice!), and spent countless hours playing video games, which shaped him into the emotionally balanced individual he is today.
A self-taught screenwriter, he earned a spot on the prestigious Disney/ABC Writers Fellowship. This led to work for Nickelodeon (Teenage Mutant Ninja Turtles), Bethesda Game Studios, and several international producers. He now writes for the lovable weirdos at Rooster Teeth Animation (RWBY Chibi, Red vs Blue) and served as a panelist and pitch judge at the 2018 Austin Film Festival.
Tom lives in Austin, but he grew up in what was known as the "Murder Capital of the World" along the Texas-Mexico border in El Paso and Juarez. One Christmas morning he awoke to discover a bullet had blasted through the front door and lodged itself in the living room sofa. He immediately concluded Santa had gone rogue and devised a scheme to take him down using decoy reindeer and smoke bombs. Because that's how his brain works.


Programming descriptions are generated by participants and do not necessarily reflect the opinions of SXSW.
Events featuring Tom Alvarado
Events featuring Tom Alvarado