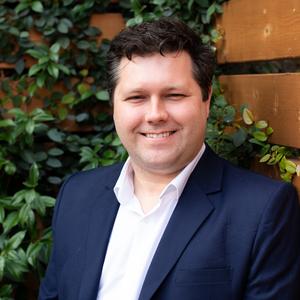 Dr. Travis Deyle is the CEO and co-founder of Cobalt Robotics. He is an acclaimed scientist and technologist with extensive experience and academic publications in robotics, RFID, and sensing technologies.
Dr. Deyle obtained his PhD in Robotics from Georgia Tech, where he was a founding member of Prof. Charlie Kemp's Healthcare Robotics Lab. A core tenet of the lab was "deploy robots to real environments and interact with real people." Dr. Deyle built some of the first mobile robots capable of operating in real homes, including his own. Enabled by long-range radio-frequency identification (RFID) tags -- an internet of things (IOT) technology -- he used these robots to demonstrate useful healthcare tasks such as robot-mediated medication delivery, fetching and retrieving tagged objects, and helping older adults and people with motor impairments with activities of daily living.
Following his PhD, Dr. Deyle worked as a postdoc at Duke University with Prof. Matt Reynolds. He collaborated on wireless power harvesting and communication devices akin to souped-up RFID tags, which could operate at WiFi-like data rates (many megabits per second) on a small fraction of the power (micro-Watts). He developed tags to perform health monitoring (electrocardiogram sensing) and others to create "cyborg dragonflies" (neural recording from dragonflies in flight).
Prior to Cobalt, Dr. Deyle worked at Google[x]'s Life Sciences (GLS) division, which pursues "moonshots" in science and technology with a focus on healthcare. In this position Dr. Deyle contributed extensively to their contact lens projects (eg. the glucose-sensing "smart" lens) and pursued new R&D efforts for other non-public projects. Dr. Deyle was also an active participant on the Rapid Eval team that helped vet new Google[x] ideas. The GLS group later became Verily Life Sciences, one of the first independent Alphabet companies.
Dr. Deyle was named one of MIT Technology Review's "Top Innovators Under 35" in 2015.
[Programming descriptions are generated by participants and do not necessarily reflect the opinions of SXSW.]
Events featuring Travis Deyle
Events featuring Travis Deyle