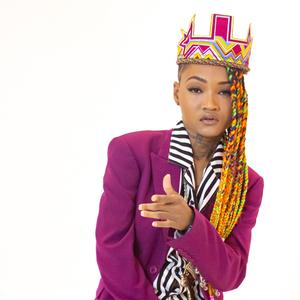 Dawnesha 'Nesha Nycee' Williams
Dawnesha "Nesha Nycee" Williams born March 6th, 1992 in St Louis, MO, by way of Atlanta, GA, started rapping at the age of nine as an outlet to escape her, at the time, dismal reality. Listening to hip hop legends like Notorious BIG, Tupac Shakur, Queen Latifah and MC Lyte amid performing their songs in the mirror; a teen-aged Nesha Nycee was destined to pursue a career.
She started recording at 12 and by the age of 18 she was crowned the undefeated champ on v103s Rip The Mic - her defining moment. Furthermore, she was also a judge on the panel for the ATL Football Classic MC Freestyle Competition along side Jazze Phae, Da Brat, Rickey Smiley, music producer Vaughn and others. She's made records with Jazze Phae, Sy Ari Dakid, Yung Joc, FKi's Sauce Lord Rich and a few other independent rap artists. She's performed on the same stages as Young MA, Musiq Soulchild, SA-ROC, Keke Wyatt, Travis Porter, Ciara, Monica, Kelly Price, Lil Kim, Faith Evans and amid others. Nesha has also wowed legends such as Sway on "Sway in The morning" as a featured MC in the SXSW2018 cypher.
She doesn't stop at musical talents. The Queen is no stranger to the big screen! You can find her in "Street Dreams - The Road to A3C" where she's the only female independent artist among a cast featuring artists including; Scotty ATL, Travis Porter, Myko Montana, Skooly, DJ Mook and Lil Bankhead just to name a few. She's also in "Turnt" the movie which highlights the independent grind alongside other celebs in the game like DJ Greg Street, T.I, Hoops and producer 30Roc. Nesha is also very active in community outreach giving back to the homeless and always finding time to uplift and mentor the younger generation.
Her music is raw, honest, positive, and inspirational as she credits God for all of her flairs. A lyrical poetess of the first order and the new leader in the female hip hop movement, Nesha Nycee lays it all on the line, no-holds-barred, "I don't go for the trendy commercial approach. What I do can't be duplicated, replicated, or imitated.'' She adds a unorthodox element to the industry with her intrepid style, crazy word play and effortless delivery - a legend in the making.
Nesha comes from a tradition of great lyrical content and music-making; where she finds herself now on the cutting edge of inspired creativity: " There's a natural high, a rush of adrenaline that I get when I'm writing, recording, producing…"


Programming descriptions are generated by participants and do not necessarily reflect the opinions of SXSW.
Events featuring Dawnesha 'Nesha Nycee' Williams
Events featuring Dawnesha 'Nesha Nycee' Williams