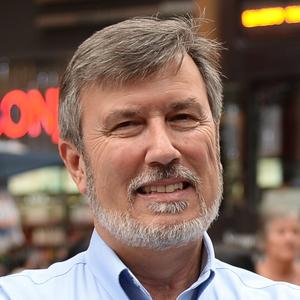 A career entrepreneur, Carey Smith founded Big Ass Fans in 1999 and served as its CEO, or Chief Big Ass as he preferred, for 18 years. While other companies made and lost their fortunes, Carey's contrarian business practices and relentless pursuit of new markets and high-quality products led to sustained, rapid growth.
By 2017, Carey had grown the fan and light manufacturer to more than $250 million in annual revenue and around a thousand employees. And he'd done it without any outside investors. Ready for a new challenge, he sold Big Ass Fans for $500 million. The company's stock appreciation rights program paid out $50 million to more than 100 loyal employees who shared Carey's work ethic with 15 becoming instant millionaires.
Carey is now focused on his latest business — Austin-based The Kitchen. He modeled this twist on the classic business incubator after a group at Big Ass Fans that explored new technologies outside the company's core efforts. And when the staff of The Kitchen succeed, they'll profit, too, as they have stakes in both the company and the businesses they build.
[Programming descriptions are generated by participants and do not necessarily reflect the opinions of SXSW.]
Events featuring Carey Smith
Events featuring Carey Smith