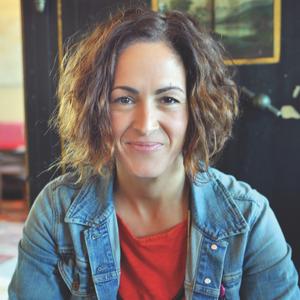 Wendy MacNaughton is an illustrator and graphic journalist based in San Francisco. Her ongoing drawn journalism series "MEANWHILE" appears weekly as a column in the New York Times' Sunday Business section and on the back page of California Sunday Magazine. She is the Co-Founder of Women Who Draw.
Of her eleven published books, three are NYT Beststellers. Her books include Meanwhile in San Francisco, The City in its Own Words (Chronicle), SALT FAT ACID HEAT (Simon & Schuster), Gutsy Girl (Bloomsbury), Lost Cat: A True Story of Love, Desperation, and GPS Technology (Bloomsbury), and Leave Me Alone with the Recipes, The Life, Art and Cookbook of Cipe Pineles (Bloomsbury).
Wendy has as background in art (BFA) and social work (MSW), worked as a copywriter in advertising, campaign director for non-profits, bookseller in a used bookstore, counselor on a suicide hotline, and creative director for the national education campaign for Rwanda's first democratic elections. She lives in Potrero Hill with her wife (and frequent collaborator) the writer Caroline Paul, two cats and a dog.
She is currently working on a project drawing, interviewing and recording important but overlooked stories, people and places throughout the USA. She's love to hear your suggestions.
[Programming descriptions are generated by participants and do not necessarily reflect the opinions of SXSW.]
Events featuring Wendy Macnaughton