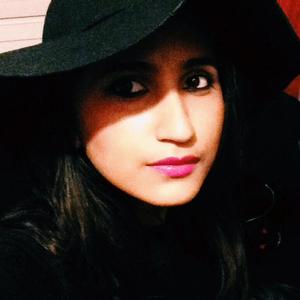 Poulomi Basu is an Indian storyteller, artist and activist.
Her work explores the way in which the formation of identity becomes entwined with geopolitics, revealing the hidden power structures buried deep within our societies. She journeys into the hinterlands, to the peripheries where individuals and societies reveal themselves. Poulomi's work has become widely known for advocating for the rights of women.
In December 2015, she shared a platform with the parents of the Nirbhaya Delhi rape victim talking about her social activist initiative, The Rape in India Project. And, in January 2016 at the UN Young Changemakers Conclave, Poulomi spoke on the social impact of sustainable development with specific reference to her long-term project A Ritual of Exile and her collaboration with NGO Water Aid and their To Be A Girl campaign, which raised £2 million, using her work.
Poulomi featured alongside Hilary Clinton as one of the one of the Amazing women from around the world giving their best advice by Refinery29.
Her work has been internationally exhibited and she won the Magnum Emergency Fund in 2016 and was a Magnum Foundation Human Rights Fellow in 2012. She was shortlisted for the Tim Hetherington Visionary Award and the Catchlight Fellowship in 2017 with Blood Speaks, shortlisted for the MACK FirstBook Award for 'Centralia', the FOAM Paul Huff Award and the Prix Pictet amongst others.
She is the Director of Just Another Photo Festival, a traveling guerrilla visual media festival that democratizes photography by taking it to the people and forging new audiences. Her festival was listed by BJP as 2015's most Cool and Noteworthy and in 2016 in JM Colberg's Conscientious Photography Magazine as an alternate voice of the 'audience'.
Along with filmmaker CJ Clarke she foundered JAPC a media company to explore new modes of storytelling and mass communication.
[Programming descriptions are generated by participants and do not necessarily reflect the opinions of SXSW.]
Events featuring Poulomi Basu
Mar 10, 2019
11:00am — 12:00pm
Events featuring Poulomi Basu
Mar 10, 2019
11:00am — 12:00pm