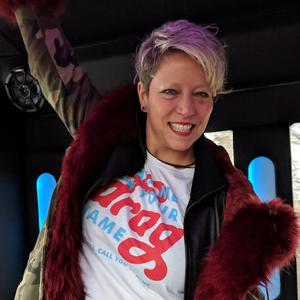 Ann Bradstreet Brown is the Director for Global Brand Supply Chain (GBSC) at Bumble and bumble. She has been with Estee Lauder Companies for 15 years. For the First 9 years she worked on MAC Cosmetics.
She has over twenty five years of experience in advertising account and supply chain management. Notably: the launch of major advertising campaigns in the fashion, beverage and pharmaceutical sectors; the operational integration of newly acquired brands; the implementation of major designer brand collaborations; the launch of new cosmetic and hair product franchises; leading team adoption of SAP systems; and training teams in global brand supply chain processes and systems. Proven capabilities in managing complex and multifaceted supply chains; guiding the development of products from concept to market; and creating operational synergies across multiple people and areas of expertise.
Ann was selected as a Co-Lead for the wELCome, Estee Lauder Inclusion and Diversity Employee Resource Group for LGBTQ employees. She helps to Identify and Build partnerships with external nonprofit groups to organize events that allow employees to participate and contribute to inclusion and diversity. She developed and lead the first of its kind, Gender non-conforming panel discussion on Fashion and Beauty, which included Queer Fashion Designers and Influencers in the Spring of 2018. Additionally she has facilitated inclusion and diversity seminars to Estee Lauder employees.
Ann loves to travel and for the last 8 years has been to England, Scotland, Italy (Tuscany, Amalfi, Cinque Terre), Spain, France, Mexico and Brazil.
She loves the Arts including Music, Theater, and Film, film being her true passion. She has tried her hand at many things in the arts such as Rock Drumming classes, School of Burlesque classes as well as a performance and she is trained as a Voice Over talent.
Ann is an athlete and loves tennis and has played since she was 6 years old.
[Programming descriptions are generated by participants and do not necessarily reflect the opinions of SXSW.]
Events featuring Ann Bradstreet Brown
Events featuring Ann Bradstreet Brown