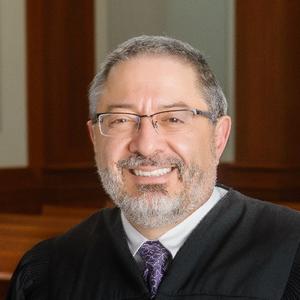 Constandinos (Deno) Himonas
Justice Deno Himonas was born in rural Utah in 1964 to Greek parents. Justice Himonas graduated Magna Cum Laude from the University of Utah and received his Juris Doctorate from the University of Chicago. After graduation, Justice Himonas spent fifteen years working on complex civil litigation. In 2004, Governor Olene Walker appointed Justice Himonas to the trial court bench. In February 2015, Governor Gary Herbert appointed Justice Himonas to the Utah Supreme Court. Justice Himonas was named the 2017 Honorary Alumnus of the Year for his unceasing efforts to improve access to justice for all. He has served on a number of boards and commissions and has taught as an adjunct professor. Justice Himonas is a Life Fellow of the American Bar Foundation and recently named as a recipient of the Judicial Excellence Award, which is bestowed by the Litigation Section of the Utah State Bar. Justice Himonas and his spouse (Lisa) are incredibly fortunate to be the parents of two wonderful daughters.

Programming descriptions are generated by participants and do not necessarily reflect the opinions of SXSW.
Events featuring Constandinos (Deno) Himonas
Mar 11, 2019
11:00am — 12:00pm
Events featuring Constandinos (Deno) Himonas
Mar 11, 2019
11:00am — 12:00pm