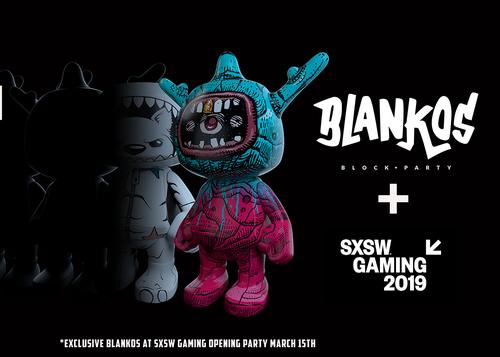 SXSW Gaming will team up with the creators behind Blankos Block Party, Mythical Games, to host this year's SXSW Gaming Opening Party on Friday, March 15th! As a teaser to the Blankos release, attendees will be treated to a curated remix of cool music, art culture, rare collectibles and social meet-ups. Blankos Block Party will premiere at SXSW Gaming with a "First Look" showcase featuring a DJ set by world-renowned musicologist Questlove. Influencers and party-goers alike will be the first in the world to meet the fun-filled characters of Blankos and playtest the game! There will also be SXSW exclusives throughout the night, including limited edition Blankos card deck giveaways that will grant one-off collectible Blankos characters redeemable before the global release of the game. Lucky attendees might also uncover an exclusive card that grants ownership to Blankos skins designed by notable artists JPK and Dan Lish, or even the Golden Ticket, a one-off Golden Blanko! The SXSW Gaming Opening Party is open to SXSW Gaming attendees 18 years of age and older.

From 7 pm to 8pm, SXSW Gaming wristbands will receive priority and exclusive access to the SXSW Gaming Opening Party and first hands-on look at Blankos Block Party.
A strict no camera policy will be enforced.

Programming descriptions are generated by participants and do not necessarily reflect the opinions of SXSW.
Buy a Gaming Wristband
Primary Entry: Music Badge, Platinum Badge
Secondary Entry: Music Festival Wristband, Artist Wristband, Film Badge, Interactive Badge, Gaming Wristband